How I got a writing career (and a dog)
I grew up in rural Vermont where storytelling
was an
essential skill, like milking a cow or boiling maple syrup. You pretty much had to come to the supper table with something interesting to say. The problem was: not a whole lot ever
happened in
my hometown—either
good or bad
—so
I told outlandish tales of being ambushed by bandits on the walk home from school. Lucky for me, my family
shared my opinion that the
facts were
not always the
best tools for telling
the
truth.

THE REST OF THE STORY
How it all began
I've been writing stories since I was old enough to pick up a crayon. I just drew pictures until I learned how to read and write. By fourth grade, I considered myself a published author. That's because I bound my better tall tales into picture books and hocked them at the side of the road—a sort of literary lemonade stand.

Read more...
My first bad career decision
No surprise, I guess, that on my first career interest survey in high school I ticked "Other" on the list of professions and wrote in "famous writer." My guidance counselor persuaded me to put my talents for exaggeration and embellishment to more practical use and tick "Advertising" instead. I should never have listened to that guy! I ended up graduating from Boston University with a degree in mass communication.

My first real writing jobs—boring!
My first couple of assignments were indeed writing ad copy—first for a chain of donut shops, then for a chain of children's shoes. Hated it! So when I saw a posting in the Boston Globe classifieds for a travel writer—European beat, send writing samples—I totally made up three pieces about London, Paris and Rome, but had the good sense to admit I'd done so in my cover letter. Surprisingly, the company invited me in for an interview. Even more surprisingly, they hired me and sent me on assignment to Switzerland. It was like winning the lottery. Except that Switzerland looked just like Vermont.

Farmboy sees the world—and writes about it
Thus began a long career of working in and writing about such places as London, Paris, Amsterdam, Stockholm, Zurich, Bangkok and Hong Kong. It was a great life: I got to eat lunch at the top of the Eiffel Tower like Guy de Maupassant. I forded rivers of army ants in the rainforests of Costa Rica. I was once pick-pocketed by an elephant in Thailand.

Pen-for-hire
But I was still putting words in other people's mouths—a pen-for-hire—instead of telling my own truths. I began to draft short stories on my laptop during long layovers and flight delays. I went back to school for two years at the University of MIchigan (go blue!) to get good at it. I published my first-ever real short story before I graduated. It was the best moment of my life: seeing my own words in print.

Finally, I start writing fiction
After that, I wrote educational travel brochures by day and fiction by night. Oh yeah, and I moved to London. There I published several short stories about nomads like myself. The whole time I secretly longed to settle down and get a dog. I didn't. I moved around a lot more. While living in Amsterdam, I drafted my first novel—set in rural Vermont where I grew up. And while living in New Mexico, I drafted my first middle-grade novel about a kid who gets a dog from the animal shelter.

And the rest is history...
Low and behold, an eight-week old puppy turned up on my doorstep and never left. Her name was Chima. She followed me on my adventures to California, Switzerland, Vermont, and now Cape Cod—where I've finally settled (sort of) after all those years of globetrotting. I'm still pursuing my dream of becoming a famous writer to this day.
NOW FOR SOME BORING GROWNUP FACTS...
Education
I received my MFA in Fiction Writing from the University of Michigan. I graduated from Boston University with two degrees: a BS in Mass Communication and a BA in French Literature. I was awarded the Diplôme d'études en langue française, deuxième degré avec mention, at the Centre Universitaire d'Études Françaises, Université de Grenoble, France.

Novel writing
My first novel, Housewrights, was published by Penguin Putnam in 2002. It was a "Book Sense 76" summer selection that year and deemed an excellent first novel by both Publisher's Weekly and the San Francisco Chronicle. My debut middle-grade novel, How I, Nicky Flynn, Finally Get a Life (and a Dog) was published by Amulet Books (Abrams) in Spring 2010, and was released in paperback Spring 2012 under the title How I Got a Life and a Dog. My second middle-grade novel for Abrams, 13 Hangmen, was also published in Spring 2012. It was nominated for an Edgar Award.

Short fiction
I first began publishing short fiction while at Michigan. My short work has since appeared in literary journals in the USA, UK and Canada. Several of my stories were anthologized in Faber and Faber's First Fictions series (1997) as well as in Neonlit (Vol. 1), Time Out's anthology of new world writers (1998). My first story collection, Blood Pudding, was released by Esplanade both in Canada (2007) and the USA (2008).
Screenwriting
While living in Santa Fe, I completed a nine-month certificate program in screenwriting through the New Mexico Filmmaker's Intensive at the College of Santa Fe. My short film Güero, was directed by Kevin Jaramillo and produced by Rob Horvath. I have also written a feature-length script of my first kids' book How I Got a Life and a Dog. This was a top-ten finalist for a 2010 Nicholl Screenwriting Fellowship, administered by the Academy of Motion Pictures Arts and Sciences.

Professional writing
I have worked as a brand consultant, marketing director, travel writer, copywriter, and speechwriter for, well, a really long time. My fields of expertise are international travel, language learning, cultural exchange, higher education and inclusive leadership. (For more information about my professional writing career—spent mostly in a suit—find me on LinkedIn.)

Teaching
I have led fiction writing workshops at Harvard University's Continuing Education Division, Art Institute of Boston, University of Michigan, and Northeast Cultural Co-op. I have also been a visiting writer to high schools. I occasionally conduct fiction workshops and seminars on the short story, adult novel and children's novel. I also mentor fiction writers in the process of completing their first novels or story collections.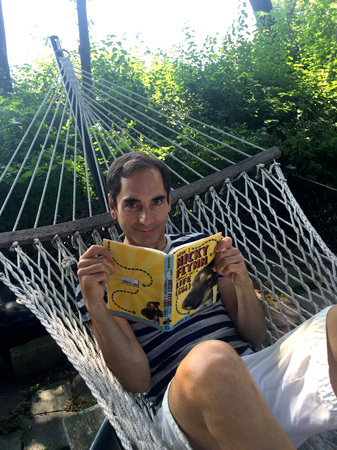 Just the facts
:
So far, I have published two novels for kids, one novel for grownups, and a collection of stories. I earned an MFA in fiction-writing from the University of Michigan. I have been awarded writing residencies at the art colonies of Yaddo, MacDowell and Djerassi. As a travel writer, I have worked in cities throughout the USA, Europe and Asia. I currently make my home on Cape Cod in Truro, Massachusetts.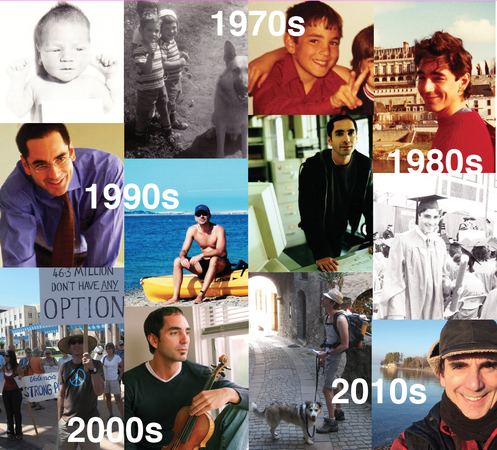 Top:
Me at birth; me at age three with my brother and sister and Blitz; me in third grade; me cycling through France's Loire Valley during college.
Middle:
Me working in London; me on vacation in Cape Cod; me working in Miami; me graduating from Boston University.
Bottom:
Me protesting in Albuquerque; me with my grandpa's violin; me walking through Switzerland with Chima; me at my family's summer camp on Lake Champlain.